Optical Engineering...
Let RCOS design your next optical project using ZEMAX. We'll import your custom optical design into SolidWorks for a complete model of optics AND telescope.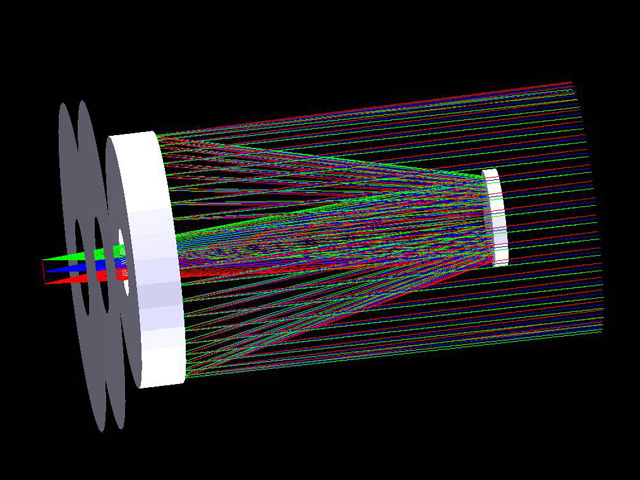 A 12.5RC f/5.6 designed and optimized for a Mid Wave (3-5mu) IR camera with a 1 degree FOV.
Our optical design capabilities include:
Visible, Near Infrared, Mid-Wave Infrared, Long-Wave Infrared Optical Design Capability

Telescope Design
Custom Telescopes Designed to Customer Specifications & Requirements

Ritchey-Chretien
Classical Cassegrain
Mersenne (AFocal)
Dall-Kirkham
Off-Axis Telescope Systems
Off-Axis Parabolas
Beam Expanders

IR Relay Lens Designs Matched to RC Optical System Telescopes and Available IR Sensors

MWIR Relay Lens Assemblies
LWIR Relay Lens Assemblies

Dual Sensor Designs Matched to RC Optical System Telescopes

Simultaneous Sensor Capabilities on a Single Telescope Via Dichroic Beam splitter

Jitter Correcting Systems Via Fast Steering Mirror Linked to High Speed Tracking System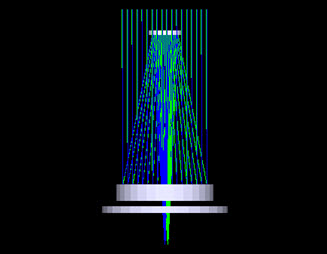 An RCOS 12.5" Ritchey-Chrétien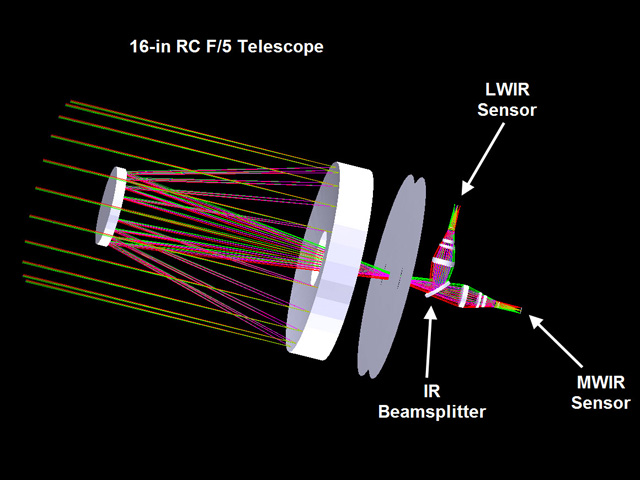 An RCOS 16RC f/5 with Infrared Dichroic Beam Splitter and MWIR and LWIR cameras.