Carbon Tube 12.5 inch f/9 Ritchey-Chrétien...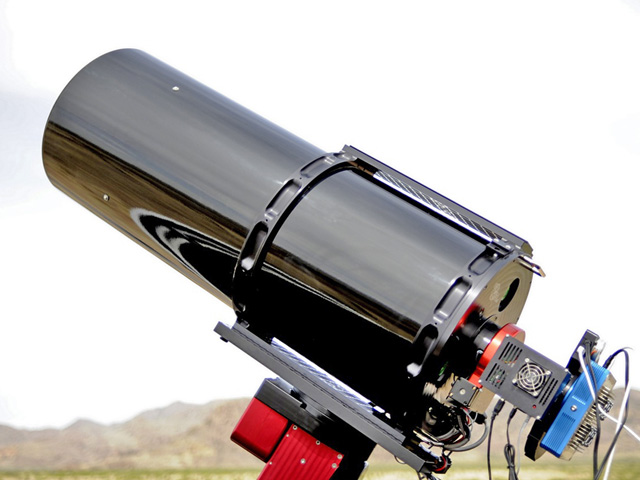 Shown here on a Paramount ME (not included) at LightBuckets in Rodeo, New Mexico. Also available here in clear anodize and white gloss paint.
12.5 inch (0.32 meter) f/9 Ritchey-Chrétien Specifications

12.5 inch f/9 Ritchey-Chrétien optics by Star Instruments using near zero Expansion ULE Type substrate certified to at least 1/25th wave RMS.
Supporting Fringe Analysis and interferometric data supplied with each optical set.
Enhanced Aluminum (SiO2/TiO2) overcoat - 96.9% reflectivity.
Low expansion, light weight Carbon Fiber Truss for superior performance and stability.
6061 Aluminum components - All CNC Machined.
Precision Secondary Mirror Focuser.
2-Stage Primary mirror baffle with internal knife-edge light stops.
Conical Secondary light baffle.
6061 Aluminum Mounting Rings - CNC Machined.
Active Cooling.
RCOS "Focus and Forget" Technology.
Shipped fully assembled, collimated, and ready to use.
RCOS Custom CNC Machined "light weight" (Losmandy compatible) dovetail plates - top and bottom with matching Paramount VersaPlate hole pattern, allows dovetail mounting plate to be bolted to VersaPlate once scope is balanced.
CNC machined dust cover over primary mirror.

Base Price
Call
Delivery Status
45-60 Days Upon Receipt of Optics
Focal Length
2857mm
Overall Length/Diameter
See diagram
Total Weight*
See diagram
System
12.5" f/9
Primary Focal Length
37.5"
Back Focus
12"
Secondary Amplification
2.85X
Radius of Field Curvature
14.65"
Secondary Size
4.80"
Primary Hole
3.5"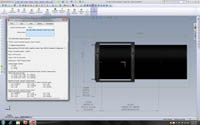 Mass Properties and Dimensions (typical)
Complete and fully assembled OTA Price: Call