RCOS Carbon Truss 14.5 inch Ritchey-Chrétien Telescopes...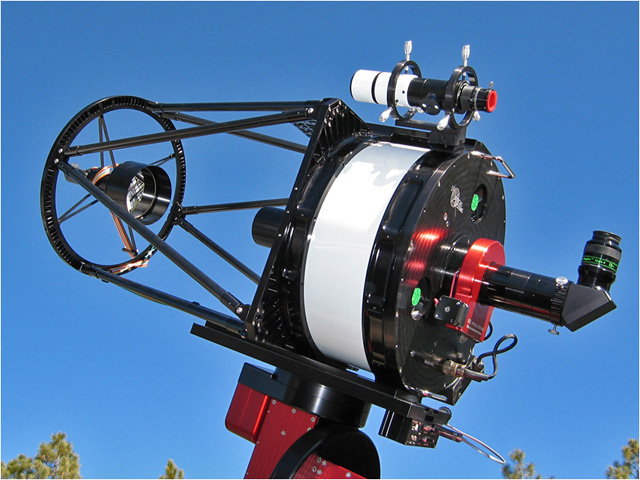 A 2007 Model 14.5RC Carbon Truss Telescope shown above.
RCOS 14.5" f/8 Carbon Truss Telescope, Computer Polish Zero Expansion Optics...
Optical Features:
- Zero Expansion Astro-Sitall, ULE Type, or Zerodur RC Optics, Tested and Certified to at least 1/20th Wave RMS.
- Supporting Fringe Analysis and Interferometric Data included.
- Enhanced Aluminum (SiO2/TiO2) Overcoat - 96.9% Reflectivity.
- Secondary Amplification 2.85x
- Secondary Size 5.50"
Mechanical Features:
- Designed, Engineered and Modeled in SolidWorks 2009.
- RCOS Proprietary Center Mounted, Self Balancing Primary Mirror Cell.
- Low expansion, light weight Carbon Fiber Truss for superior performance and stability.
- 6061 Aluminum components - All CNC Machined.
- Precision Secondary Mirror Focuser.
- Multi-Stage Primary Mirror Baffle with internal knife-edge light stops.
- Conical Secondary Light Baffle.
- 6061 Aluminum Mounting Rings - CNC Machined.
- Active Cooling.
- RCOS "Focus and Forget" Technology.
- Shipped fully Assembled, Collimated and Ready to Use.
- RCOS CNC Machined "light weight" Dovetail Plates (Losmandy compatible) - top and bottom with matching Paramount VersaPlate hole pattern, allows dovetail mounting plate to be bolted to VersaPlate once scope is balanced.
- CNC machined Composite Dust Cover over primary mirror.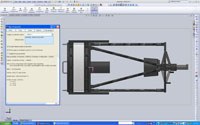 Mass Properties and Dimensions (typical)
Complete and fully assembled OTA Price: Call