Carbon Truss 32 inch f/7 Ritchey-Chrétien...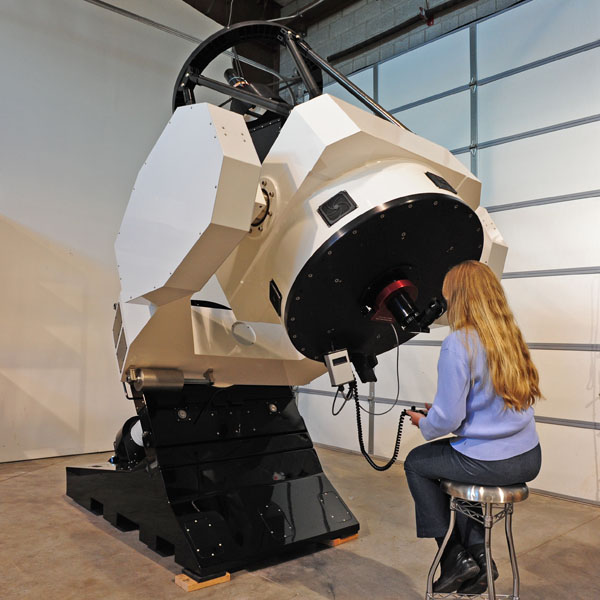 RCOS 0.81m Ritchey-Chrétien Telescope and Equatorial Fork Mount.
Optical Features:
Zero Expansion Astro-Sitall, Zerodur, or ULE type f/7 Ritchey-Chrétien Optics. Tested and Certified to at least 1/20th wave RMS.
Supporting Fringe Analysis and Interferometric Data included.
Enhanced Aluminum Coatings with Overcoat (SiO2/TiO2) - 96.9% Reflectivity.
Mechanical Features of Optical Tube Assembly:
Designed, Engineered, Modeled using SolidWorks 2010. Finite Element Analysis (FEA) on assembly and critical components.
100% CNC machined.
Low expansion, light weight Carbon Fiber Truss for superior performance and stability.
Fabricated (and then welded) Carbon Steel Plate Construction.
Annealed, machined bearing bores and critical surfaces.
RCOS Proprietary Center Mounted, Self Balancing, Primary Mirror Cell.
Precision Secondary Mirror Focuser.
6061 Aluminum components - All CNC Machined.
Multi-Stage Primary Mirror Baffle with internal knife-edge light stops.
Conical Secondary Mirror Baffle.
Active Cooling.
Robotic Primary Mirror Cover.
100mm Precision Instrument Rotator.
For more information, visit our 32RC Equatorial Fork Mount Section.
Please call or e-mail with your requirements.